Vents for Mobile Electronics
Featured Product from Porex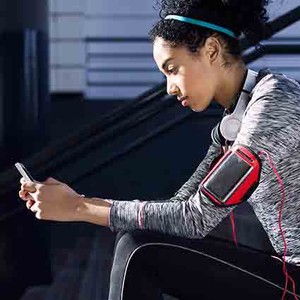 Enhance environmental protection of mobile electronics
Mobile electronics manufacturers know the importance of keeping their electronics running smoothly. To ensure your customers stay connected with their mobile devices, our high-performance POREX® Virtek™ IP rated PTFE vents are designed to provide pressure equalization, plus protection from dust, water, sweat and other contaminants.
Specifically designed for mobile devices, our vents:
Reduce pressure buildup

–Allow heat to escape electronic enclosures, protecting enclosure seals from premature failure.

Protect from contaminants

–Repels water, dust, sweat, oils and other liquids from entering the device.

Assemble easily

–The strong POREX Virtek™ sintered structure allows handling and welding without the cumbersome assembly instructions and process typical of common expanded PTFE.

STOCK PRODUCT OFFERING – ADHESIVE DISCS
Dimensions
Material Series

OD/ID (mm)*

PMV10L

PMV15

PMV20

PMV30

7.0/3.0 (N)
PMV10LN
PMV15N
PMV20N
PMV30N
10.0/7.0 (I)
PMV10LI
PMV15I
PMV20I
PMV30I
12.7/7.1 (W)
PMV10LW
PMV15W
PMV20W
PMV30W
20.0/13.0 (C)
PMV10LC
PMV15C
PMV20C
PMV30C

Dimensions
Material Series
OD/ID (mm)*

PMV15

Feature

12.7/7.1 (W)
PMV15WH
High temperature adhesive
12.7/7.1 (W)
PMV15TWH
Oleophobic with high temp adhesive
*1000 discs/roll
N, I, W & C are size codes.
Many other standard and custom sizes available. Contact Porex.

POREX® Virtek™ PTFE Membrane Application Materials — Typical Properties
Application Material
IP Rating †
WEP mbar
Airflow l/hr/cm² @70mbar
Filtration Efficiency** >99.99%
Thickness mm
Max Operating Temp °C
UL-94/746C*
Salt Fog
PMV10
64,67
270
125
0.5 µ
0.13
260°C
V-0/f2
No pen.
PMV10L***
64,67
270
85
0.5 µ
0.3
100°C
–
No pen.
PMV15
64,67
380
70
0.4 µ
0.18
260°C
V-0/f2
No pen.
‡PMV15T
64,67
380
70
0.4 µ
0.18
260°C
–
No pen.
PMV20
64,65,68
520
34
0.1 µ
0.25
260°C
V-0/f2
No pen.
PMV25
65,67,68
750
15
0.2 µ
0.1
260°C
V-0/f2
No pen.
PMV30
65,66,67,68
1000
4.5
0.1 µ
0.25
260°C
V-0/f2
No pen.
WEP = Water Entry Pressure
RoHS, WEEE, REACH Compliant
** According to IEST RP-CC007.2 2009
***Laminated polyolefin mesh backing
† IEC std. 60529, IP 68 is a user defined test; will pass condition dependent
‡ Oleophobic Grade 8, AATCC TM 118
Properties are typical and not meant for specifications.
Properties for membrane only, selected options and adhesives may affect properties.
Testing results available upon request

POREX® Virtek™ PTFE Vent Plugs — Typical Properties
Part #
Diameter mm
Thickness mm
WEP mbar
IP Rating †
Vent Airflow l/hr/cm² @70mbar
Max Operating Temp °C
UL-94 Rating
PD103032
3.2
3
450
64,67,68
1
260°C
5VA, f1
Plugs meet UL-94 5VA and F1 rating.
Assembly methods include: press fit, over-moulding, compression seal, or flange welding.




Adhesive Vent Available Sizes
Available Sizes
OD (in mm)
ID (in mm)
7
3
10
7
10.2
6.5
11
7
12.7
7.1
13
10
14.8
11
14.8
7
15.8
9
16
11
18
13
18.6
10.6
19.1
11.5
20
13
25.4
19
50
30

*Highlighted rows indicate stock items.

Custom sizes available upon request

If you'd like a sample of our capabilities, it's easy to Request A Sample or if you have questions you can Ask An Engineer.

However, if you want to learn more about porous polymers, you can check out our Webinar Series.