Custom Thermostat Options from Portage Electric
Featured Product from Portage Electric Products, Inc.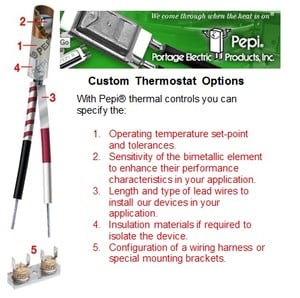 Since every thermal control application is unique in one form or another, we do not offer what is considered a "standard" product. We offer a wide range of options allowing you to specify precisely the thermal control that will provide the best combination of value and function in your application.
Getting what you want,
when you want it
We will customize our thermal controls to fit the individual requirements of your application. Should you require samples for your application testing, please complete the Sample Request Form that can be found in this site.
Contact us with the specific application requirements you need...
About Portage Electric:
Portage Electric Products Inc. has business operations in seven countries and sells products all around the globe. Our products represent the most versatile line of miniaturized thermal controls available. These reliable thermostats and thermal controls are used in appliances, battery packs, heated devices, lighting and a wide range of applications where space is tight and reliability is important.