Encoder Provides a High Degree of Accuracy
Featured Product from Portescap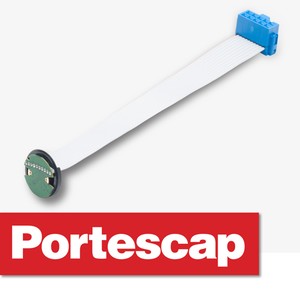 Portescap pairs accuracy and feedback positioning with its newest M Sense B Encoder
Portescap's M Sense B encoder is designed specifically for applications that require high accuracy in a compact design. The M Sense B is the first in its class to offer accuracy in the range of 1-1.5 degrees covering a resolution band up to 1024 lines with an integrated line driver resulting in accurate positioning and speed control.
The M Sense B encoder offers a solution to a variety of applications with its line driver in a single chip leading to its small and compact design. The output connection provides excellent flexibility for easier integration with the rest of the application, all in a low-cost package. Application industries include but are not limited to medical pumps, medical imaging, life sciences, security and access robotics, and aerospace and defense.
The M Sense B features high accuracy up to 1.5 degrees for more accurate application control, reducing the risk of mechanical error. The integrated line driver reduces the need for an additional customer-end driver by providing long communication lines handled directly between encoder and the driver. Resolution up to 1024 delivers higher accuracy on angular measurements – excellent for closed look motion feedback and accurate positioning. Cable output flexibility is available in both axial and radial options offering a compact mechanical design in a smaller package.
The M Sense B encoder pairs great with many of Portescap's Brush DC and Brushless DC options that require feedback control. The M Sense line of encoders will offer additional sizes in the future.
The M Sense B magnetic encoder provides a high degree of accuracy ideal for applications requiring accurate positioning and closed loop motion feedback. It is available with a wide range of resolution up to 1024 lines and comes with an integrated line driver.
Motor Highlights
Compatible with Brush DC motor frame sizes from 16mm to 35mm

Accuracy up to 1.5 degrees

Integrated RS422 line driver

Resolution up to 1024

Customization Available
Axial and radial cable output available

Output cables direction

Cables and connectors output

Low temperature version (-40°C)

Applications
Electric Grippers

Multi leaf collimator

Dental tools

Laparoscopy tools

Ultrasound imaging
Reduce Design Time Select Your Motor Online