Low Cost Jib Lifter
Product Announcement from Positech Corporation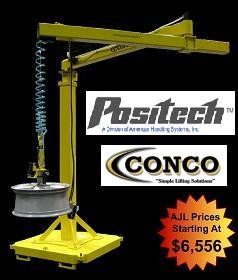 The Conco Articulated Jib Lifter is a horizontal and vertical positioning device with an air balancer built into the second arm. The AJL is ideal for reaching into inaccessible areas where the headroom limitations preclude the use of a conventional balancer... Economical and flexible - the Conco AJL Is More Than Your Average Jib!
What Sets The AJL Apart From the Competition?
o Low Cost Solution-No hoist or balancer required
o Low Maintenance-Does not require an air lubricator
o Ideal for low headroom applications
o 360° continuous rotation at primary and secondary joints is standard
o Ergonomically designed for ease of operation
(Conco AJL shown with optional wheel handling end-effector and optional pedestal with portable base)
Need an end-effector or a customized solution? Visit Positech to view industrial manipulators and custom end-effectors built to your application specifications.
CALL NOW FOR ADDITIONAL INFORMATION! 800-831-6026
---