Manipulator
Product Announcement from Positech Corporation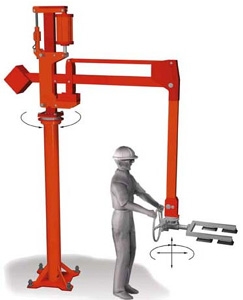 For jobs that require the compliance and float of a pneumatic manipulator, this machine gives the highest level of feel and position to payload. Positech's SAM uses pneumatic power to provide quick response and superior maneuverability with loads up to 900 pounds.
Quick Response
Superior Maneuverability
The Simple Air Manipulator's lift cylinder uses compressed air for vertical lifting positioning. Positech's SAMs come equipped with a standard operator-controlled up/down metering valve. As an option, automatic balancing control, combined metering and balancing control, or an ergonomic twist grip control, is available. Precision bearings at every articulating point to minimize resistance to movement.
For Performance and Quality
· Substantially greater endjoint side-loading capability than competitive manipulators
· End of arm rotating axis has: up to 15,000 inch pounds of end of arm moment loading and 360° full rotation
· Its pantograph design allows for a rectangular working window
· Tool-mounting surface deflects less than 2° when fully side loaded
· Low SAM models allow for excellent reach in low headroom work areas
· Mounts on pedestal, overhead spacer, portable or mobile base, or dual rail trolley
· Designed for low maintenance and high productivity
· Special circuitry available to meet application requirements
· Pneumatic is designed to be operated with clean and dry air
· Precision bearings and thrust washers at joints for smooth motion and long life
Safety Features
· 5:1 design factor minimum on all structural components
· Enclosed parallel linkage minimizes visual obstruction and protects operator from potential harm at pinch points
· Pilot operated lock valve on lift cylinder and gripper cylinders prevents vertical arm movement and loss of payload if supply pressure is interrupted
· Gripper Safety Circuitry senses the pressure in the cylinder and does not allow the part to be released from tooling unless it is supported
· Lost Load Cylinder is a separate, sealed hydraulic device that protects the operator from any sudden, uncontrolled vertical motion of the manipulator's arms.
To learn more about Positech's range of lifitng solutions visit their website.

---