Positioning Arm Manipulator
Product Announcement from Positech Corporation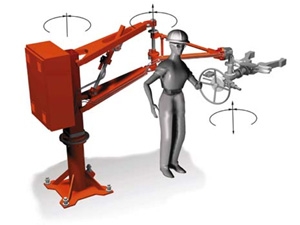 Designed to emulate the human arm, Positech's high-capacity Taurus Positioning Arm (TPA) handles the heaviest loads with precision - up to 1,500 pounds.
The Taurus is the ideal selection when precision handling and heavy weight factors come into play. This manipulator's parallel arm is articulated at the shoulder, elbow and wrist joints. Safe, low-voltage, variable speed controls can be hand held, machine mounted or built into an ergonomically designed control station. The operator manually controls all horizontal movement and positioning. Vertical movement is achieved with a motor-driven hydraulic system.
For Performance and Quality
· Direct mount to the floor, on pedestals, mobile or portable bases, wall or flange mounts, fixed overhead mounts, and dual rail bridge systems
· Adjustable drag brakes at each vertical axis of rotation
· Low headroom, no space-consuming counterweights
· Infinitely variable up/down vertical speeds; easily adjustable minimum/maximum speed controls
· Self-contained, energy efficient power unit
· Power/control unit remote mount for operation in explosive or clean room environments
· Lifting actuator: Single action, ram-type hydraulic cylinder
· Lowering force: Gravity, with full variable speed control
· Optional electric collector ring available for continuous main post rotation
· Push-button or twist-style up/down controls
· Precision bearings reduce friction and wear
· Designed for minimal deflection
· Up to 36,000 inch pounds of end of arm moment load allowed
· Can be converted from floor to overhead mount
· Precision bearings and thrust washers at joints for smooth motion and long life Safety Features · 5:1 design factor minimum on all structural components
· Pilot operated lock valve on lift cylinder and gripper cylinders prevents vertical arm movement and loss of payload if supply pressure is interrupted
· Gripper Safety Circuitry senses the pressure in the cylinder and does not allow the part to be released from tooling unless it is supported
· Low-voltage signal on all operator's controls
· Temperature sensors shut down system automatically to prevent overheating.
Visit their website to learn how Positech can help with your lifitng challenges
---