Vertical Lift Cylinder Solves Ergonomic issue
Product Announcement from Positech Corporation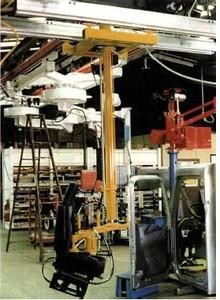 Read the case study of the lift cylinder and boom in action
This is just one example of how Positech develops effective solutions to material handling challenges. We design, manufacture and install a broad range of lifing and positioning equipment.
PROBLEM Seat weight increased beyond single operator capability
MATERIAL HANDLING REQUIREMENT AND WORK AREA RESTRICTIONS
· Pick seat weighing up to 150 lbs. from a pallet.
· Position seats inside tractor cab from either driver or passenger side.
· Work area coverage 28' x 28'
· Vertical travel requirement is 60".
· Tooling must provide for operation from either side in order to allow placement into either side of cab.
· Tooling must hold seat securely without damage
· Gripping tool must swivel 15 degrees in all directions.
MATERIAL HANDLING SOLUTION
• Rigid style Vertical Lift Cylinder.
• Square frame trolley with Unified box rail truck.
• A 30' x 50' Unified ETA-8 workstation crane with Saturn electric powered tractor drive system to move the bridge rails on the runways.
• Custom designed seat handling tool.
• Includes a flat "spatula" member, which extends between the seat cushion and the bottom of the seat back.
• Includes two trapping fingers, which extend down along the front of the cushion and curl under the front of the seat.
• Includes an air powered round disk, which is pressed down onto the seat cushion.
• The combination of these three components effectively trap and hold the many different variety of seats being handled. Yet it is easy to engage and disengage.
• The tooling is mounted to a ball in socket swivel, providing full movement in all directions.
As a single-source supplier of customized positioning technology, Positech has developed a winning approach to material handling solutions. Call or e mail us to discuss your specific application and lifting/positioning needs.
---