Customizable Gearboxes with Longer Life
Product Announcement from Power Engineering & Manufacturing, Ltd.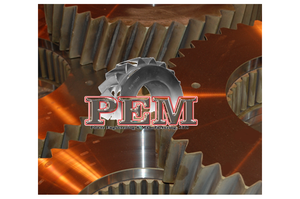 Power Engineering & Manufacturing, Ltd (PEM) provides heavy-duty, custom gearboxes and component parts. Our patented MEGARGEAR® design provides higher horsepower and torque capability compared to traditional gears. PEM's custom gearboxes provide 33% more power capacity, longer endurance with up to 500% overload capacity, and run up to 30% cooler-providing lower maintenance and lower total cost of ownership overall.
Our philosophy is 100% commitment to superior product performance. Our units are designed and built to exceed AGMA standards while incorporating the design specifications needed by the customer. Our gearing constantly proves the reliability of the MEGAGEAR® design by increasing fatigue life and increasing horsepower and torque capability. Mean time between failures (MTBF) is exponentially increased when compared to standard gearing.

Our engineers design units to come within .01% of output RPM. Each geared unit goes through a finite element analysis (FEA). Our goal is for each unit to have up to a 600% shock load capacity and a minimum of a 2.5 Service Factor. We have been designing custom gearboxes for over 35 years and are well versed in adverse applications. From helicopter test stands to roll crushers, in any environment imaginable, our units will work for you.
PEM gearboxes will cost less to operate due to the design parameters of the gearing. While our competitors will say that standard helical gears will have a 1.5% efficiency loss per stage our MEGAGEARS® have around a .5% loss per stage. In a three stage PEM gearbox, 100 HP in = 98.5 HP out. In our competitors gearbox 100 HP in = 95.567 HP out.
Features & Benefits:
33% more power capacity
500% overload capacity
Run 30% cooler
Field Service
Repair of all makes and models
Lower total cost of ownership
Specifications:
Reducing ratios from 1:1 to 8036:1
Increasing ratios from 1:.52 to 1:60.30
Power capacities from 15 to 15,000 HP
Up to 2 million LB-FT of torque
How Using PEM MEGAGEARS® Will $ave You Money:

1) Increased Working Pressure Angle
2) Higher rolling action
3) Lower sliding action
4) Increased efficiency
What separates PEM from its competitors?


1. Quality Gearing
MEGAGEAR® technology
2. Heavy Duty Bearings
3. Stronger Housings
4. Advance Technology
5. Rugged Shafts
Heat treated 4140 for increased shock loading
6. Pinions
Case hardened 8620 with integral ground gearing
7. Gears
Heavy duty splined gearing (not keyed)
---