Benefits of Single Cell Solar Designs
Featured Product from PowerFilm, Inc.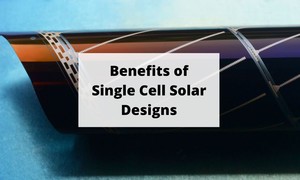 Solar panels are typically made up of many cells connected in series, which increase the output voltage of the panel.
Multiple cells used to be a requirement when circuitry could not run on low voltage power sources, but with modern power management ICs (PMIC), this is no longer the case.
Designing a single-cell solar solution offers several key benefits over a multi-cell panel of the same dimensions.
Benefits:
Increased power efficiency

Higher performance on curved surfaces

Higher performance in irregular lighting environments
Let's dig a little deeper and see why using fewer cells, and ultimately, a single cell can increase a solar solution's performance.