Comparing Portable Solar Technologies
Featured Product from PowerFilm, Inc.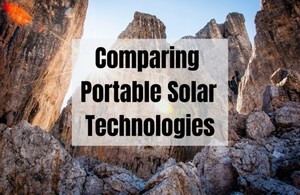 Today, we will focus on portable solar technologies comparing flexibility, durability, portability, power/weight ratio, temperature coefficient, variable/low-light performance, efficiency, and cost.
We're going to review six specific technologies. Crystalline (c-Si), as designed for portable applications, three thin-film technologies, including amorphous silicon (a-Si), copper indium gallium selenide (CIGS), organic (OPV), which is an emerging technology in the commercial space, and gallium arsenide (GaAs) which is a very high-end choice.