Indoor Solar: Powering A Bluetooth Door Lock
Featured Product from PowerFilm, Inc.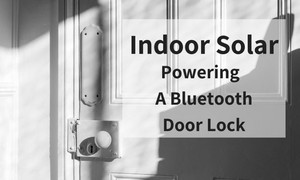 What comes to mind when you think about solar power?
Large solar farms that collect energy measured by the kilowatt?
Perhaps Elon Musk and his lofty solar shingles project?
While the aforementioned examples are solar power at work, PowerFilm is unconventional to the core. We continually push the boundaries of how and where solar technology can be used.
Solar isn't just for rooftops with direct sunlight anymore. Many electronics can be powered using solar in shady and even indoor conditions.
To demonstrate this, we created a demo video with the Indoor Solar Development Kit powering three different electronic devices; a Nordic Bluetooth Beacon, a Pulsing Fan, and a Bluetooth Door Lock, all in an indoor setting.
For this post, I will focus on the solar-powered MiLocks Bluetooth Door Lock and the capabilities it demonstrates.