Outdoor vs Indoor Solar: The Key Differences
Featured Product from PowerFilm, Inc.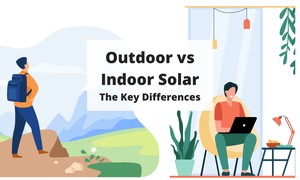 Can I use my solar panel indoors?
We get that question a lot at PowerFilm.
The answer isn't as cut and dry as you might think.
In short, only PV modules rated and optimized to collect low-intensity artificial lighting will perform well, while traditional modules will perform poorly, if at all.
Light intensity and light spectrum are the two main differences affecting panel performance.