Solar Power For Commercial IoT
Featured Product from PowerFilm, Inc.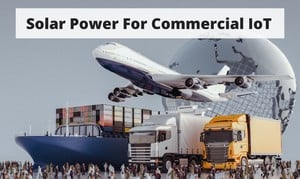 As the IoT industry rapidly expands into commercial, consumer, and industrial spaces, new and innovative ways to power the increasing number of connected devices are needed to ensure sustainability, feasibility, and environmental responsibility.
Often unconventional energy sources are hiding in plain sight. Vibrations in vehicles from the road and engine, radio signals from cell towers and WiFi routers, even body heat from your skin can provide enough energy to run low power electronics. Whether indoors or outdoors, light is an abundant energy source that can be used to power a wide variety of applications, large and small.
For this IoT series, we will look at the different IoT market spaces, identify power needs for applications in that space, and define what a solar harvesting solution looks like.
In the commercial world, IoT is all about economics.