Solar Power For Consumer IoT
Featured Product from PowerFilm, Inc.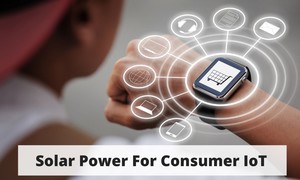 In the consumer world, convenience is king.
Consumers want devices and systems that are easy to use and dependable. The best consumer IoT solutions are those that people can set up and forget about. Batteries are easy to use and will work, but eventually, they will stop working. Then what?
When batteries die, the consumer has two options; replace batteries or toss the device. Both options are a headache. "Where's my screwdriver?" "What type of batteries do I need?" "Now, I need to run to the store." "Do they still sell my device?" "Will a different device work with my system?" Finally, the dreaded, "I think I need to call customer support."
Often, the consumer opts to toss the device and replace it, or they forget about the device entirely. The National Fire Protection Association reports that 20% of US homes have smoke alarms that are not operational due to dead batteries. Even something as serious as a safety hazard isn't enough to overcome the inertia of inconvenience.