The End of Disposable Batteries? Energy Harvesting
Featured Product from PowerFilm, Inc.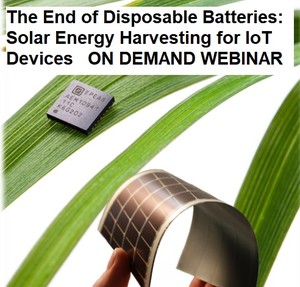 The End of Disposable Batteries: Solar Energy Harvesting for IoT Devices.
Imagine if devices could live forever harvesting energy from sources like solar even in low-light conditions. This would reduce the pain of battery charging and replacing. The life of disposable batteries is too often measured in months, rather than years which can be changed. They lack resilience from unexpected power events and can be the single largest component in a device, taking up critical volume for portable and wearable applications.
View this recorded presentation to learn how you can use PV energy harvesting to overcome limitations and eliminate batteries entirely in many devices so consumers don't have to worry about battery charging or replacing. The presentation is held by e-peas and PowerFilm, experts in energy harvesting PMIC and indoor Photovoltaics (PV).