Why Wearables Need Single Cell Solar Modules
Featured Product from PowerFilm, Inc.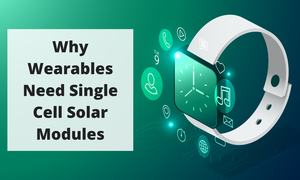 IoT wearables generate lots of buzz in the tech community, often accompanied by insane projections of exponential growth.
Why haven't these projections been realized?
Power is a significant hurdle.
Take this blog post with you!
To truly succeed, wearables must be so inconspicuous that users forget they are even there. Battery life, bulk, and the limited form factor of traditional battery solutions make that very difficult to achieve.
Energy harvesting with optimized solar cells (even indoors) can solve this power dilemma in many practical use cases, but not just any PV cell fits the bill.
Wearables are a unique use case for solar energy harvesting. The combination of mobility, rapidly changing light levels, and highly irregular shading/lighting require a careful selection of both the proper PV module and the correct energy harvesting power management IC (PMIC).