PS6000rmi-1-A Rugged International 1.5KVA UPS
Featured Product from Powerstar UPS Inc.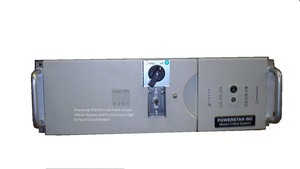 Powerstar Inc. since 1993 Made in USA
PS6000rmi-1-A Series UPS 3U X 38cm deep Fully Ruggedized stainless steel chassis MIL-S-901D-A MIL-STD-167 Shipboard. Test results available. This unit is housed in a 304grade stainless chassis. It has a front mounted High G Input circuit breaker with finger guard. A front mounted bypass (as shown) is an option which switches the input directly to the output- bypassing the UPS altogether. Also this unit has conformal coating applied to the electronics. An Input Isolation transformer is available and can be mounted to the rear of the unit. 1000s in use as 120V model with the US Navy. This unit now available as a 230V model.
Output
> Output Power Capacity 1000 Watts/ 1500VA
> Nominal Output Voltage configurable for 220V, 230V, or 240V. (120V Model is also available; PS6000-1-A) This unit has an Automatic Voltage Regulator (AVR) circuit to stabilize output voltage without using the Inverter- thus it is more efficient while on MAINS
> Efficiency at Full Load 95%
> Full Sine wave waveform- Output voltage distortion Less than 5% at full load
> Output Frequency (sync to mains) 47 - 53 Hz for 50 Hz nominal, 57 - 63 Hz for 60 Hz nominal
> Crest Factor up to 5: 1
> > Line Interactive style UPS switches to Inverter in 2-8ms (that is less than ¼ of a cycle)
> This unit performs automatic bi-weekly tests on its inverter and does a battery load test to find bad batteries before they fail on you
> Output Connections: 2 Military is standard (or you can specify up to 6 connectors of your choice)
Input
> 1 ea. Miltary spec. connector. Nominal Input Voltage 230v or 120V for US models. (Wired for Shipboard delta power with dual pole High shock rated Miltary Spec. input circuit breaker)
> Input Frequency 50/60 Hz +/- 3 Hz (auto sensing)
> Input voltage range for main operations 162 - 286V (International model)
> Input voltage adjustable range for mains operation 151 - 302V
Batteries & Runtime
> Battery Type VRLA Maintenance-free sealed Lead-Acid battery with suspended electrolyte: leakproof 3-5 year life expectancy.
> Optional Premium 8-10 year higher temperature -20°+60°C discharge rated batteries available as PSRBC8h
> Typical recharge time 3 hour(s)
> Typical Backup Time 450Watts for 30 minutes
> Typical Backup Time @ Half Load 25.6 minutes (500W)
> Typical Backup Time at Full Load 7 minutes (1000W)
Communications & Management
> Interface Port(s) DB-9 (RS-232), USB
> Optional Ethernet SNMP reporting card for configuration and alarm reporting using Powerchute™ software. Windows XP and later versions will recognize this UPS when connected via USB and configure itself for UPS operation.
Optional Ethernet SNMP with Remote temperature and Humidity sensor for reporting and alarming environmental conditions to a remote monitor PC
> Front Control panel has:
> LED status display with load and battery bar-graphs and On Line: On Battery: Replace Battery : and Overload Indicators
> Audible Alarm (BEEP) when on battery: distinctive low battery alarm: configurable delays
> Front mounted Military Spec +120G input circuit breaker with approved finger guard
> Optional front mounted Master Bypass Switch. This switches bypasses entire UPS for Maintenance or if the UPS has failed. Only the Input circuit breaker is left in line with the load.
Surge Protection and Filtering
> Surge energy rating 459 Joules, Filtering: Full time multi-pole noise filtering: 0.3% IEEE surge let-through: zero clamping response time: meets UL 1449
Physical
> Maximum Height 130 mm
> Maximum Width 432.00 mm
> Maximum depth 381 mm
> Rack Height 3U
> Net Weight 25 KG
> Shipping Weight 33 KG
> Shipping Height 255 mm
> Shipping Width 594.00 mm
> Shipping Depth 603.00 mm
Environmental
> Operating Environment 0°+40°C with standard batteries; -15°C + 50°C with our Premium battery upgrade
> Operating Relative Humidity 0 - 95%
> Operating Elevation 0-3000 meters
> Storage Temperature -15 - 45 °C
> Storage Relative Humidity 0 - 95%
> Storage Elevation 0-15000 meters
> Audible noise at 1 meter from surface of unit 46 dBA
> Online Thermal Dissipation 171 BTU/hr
Powerstar Incorporated
Gaithersburg, MD
+1-301-948-0713
Powerstar Inc. Gaithersburg, MD 20877 USA 800-209-5556 powerstar1@aol.com
West Coast & International +1925-270-0970 Tim.Carr@powerstarinc.com