UPS 6KVA, 4200 Watt, 3u 208v 120v outlets
Product Announcement from Powerstar UPS Inc.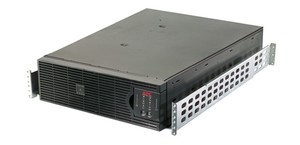 6kva 3u/5u 4200 watt 208/120 CD/Powerchute, 50 a dual pole shipboard breaker, mil connectors MS3102 ,Rack Mounting support rails opt. rails, Smart UPS signaling RS-232 cable, User Manual, optional input 5kva isolation transformer,hi-temp long life batteries.mil connector interface to rugged battery
A versatile UPS 4200 watts developed for the harshest power conditions in the world big power requirement/small size. used by White House Comm./Boeing
PS6006 6 kva 3u size is a family of high-density, performance UPSs for voice and shipboard,data networks, medical labs, and militarized industrial applications. Capable of supporting rack/tower convertible form, users can support power hungry blade servers or heavily loaded equipment racks. This flexible form factor allows standardization across multiple applications. High power internal chargers allow virtually unlimited additional matching battery packs to comply with aggressive runtime demands of business-critical systems. Customers with harsh power environments looking for extremely tight voltage and frequency regulation, internal bypass, and input power factor correction typical of double conversion online topology will get them in the PS60000 with mil connnectors.Multiple battery pack2u, support long runtime.
Features and Benefits of the PS6006
Availability
Automatic internal bypass
Supplies utility power to the connected loads in the event of a UPS overload condition or fault.
Scalable runtime
Allows additional run time to be quickly added as needed.
Intelligent battery management
Maximizes battery performance, life, and reliability through intelligent, precision charging.
Hot-swappable batteries
Ensures clean, uninterrupted power to protected equipment while batteries are being replaced
Automatic restart of loads after UPS shutdown
Automatically starts up the connected equipment upon the return of utility power.
Temperature-compensated battery charging
Prolongs battery life by regulating the charge voltage according to battery temperature.
Manageabilit
Network manageable
Monitor and control the UPS remotely via included PowerChute software or APC Network Management Card (included in all models above 3kVA).
InfraStruXure Manager compatible
Enables centralized management via the APC InfraStruXure® Manager.
SmartSlot
Customize UPS capabilities with management cards.
LED status indicators
Enables quick understanding and response to visual indicators showing UPS status.
Serial Connectivity
Provides management of the UPS via a serial port.
Adaptability
Plug-and-Play external batteries
Ensures clean, uninterrupted power to the loads when adding extra runtime to the UPS. hi-temp optional utilizing 8 year longlife sold batteries
Rack/Tower convertible
Protects the initial investment in the UPS when migrating from tower to rack-mount environment.
Flash-upgradeable firmware
Easy implementation of new firmware upgrades for ethernet card.
Serviceability
User-replaceable batteries
Increases availability by allowing a trained user to perform upgrades and replacements of the batteries reducing Mean Time to Repair (MTTR)
Automatic self-test
Periodic battery self-test ensures early detection of a battery that needs to be replaced.
Predictive failure notification
Provides early-warning fault analysis ensuring proactive component replacement.
Disconnected battery notification
Warns when a battery is not available to provide backup power.
Audible alarms
Actively let you know if the unit is on battery, if the battery is low or if there is an overload condition.
Protection
Frequency and voltage regulation
Gives higher application availability by correcting poor frequency and voltage conditions without using the battery.
Power conditioning
Protects connected loads from surges, spikes, lightning, and other power disturbances.
Input power factor correction
Minimizes installation costs by enabling the use of smaller generators and cabling.
Generator compatible
Ensures clean, uninterrupted power to the loads in the event of an extended power outage.
Cold-start capable
Provides temporary battery power when the utility power is out.
Resettable circuit breakers
Enables a quick recovery from overload events and other anamolies.shipboard power thrue hot anm d neutral break..
Safety-agency approved
Ensures the product has been tested and approved to work safely with the connected service provider equipment and within the specified environment. UL, FCC, CE, C-Tick approvals.
Runtime Chart:
Click here to view the PS60000 6kva Runtime Chart. (pop-up window)
Powerstar Inc. Gaithersburg, MD 20877 USA 855-252-5253 powerstar1@aol.com
West Coast & International +1925-270-0970 Tim.Carr@powerstarinc.com
---