Isolation Station FLEX
Featured Product from Powertronix Corp.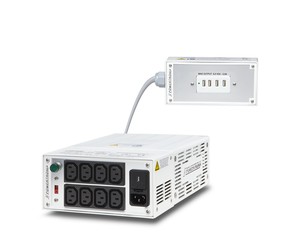 Powertronix Isolation Station FLEX is used in medical devices to provide medical isolation from the main electricity supply, limiting the leakage current and provide patient and operator protection. ZERO Failure. Isolation Station FLEX is modular and smart design to configure for end application.
APPLICATION
Medical carts, medical laser, imaging
Diagnostic lab equipment
Mobile Medical Cart, Clinical Diagnostic
IT Management & Network Servers,
Retail / Data processing equipment.
Industrial / Commercial Equipment
Automation/Robotic
Watch the Video here: https://www.powertronix.com/products/isolation-station/new-flex-series#is-flex-video
About Powertronix:
VISION & MISSION
Vision
Powertronix will be recognized as the leading innovator and supplier of engineered power solutions to highly-demanding OEMs – in the medical, renewable energy, automation and power distribution industries, worldwide.
Mission
Powertronix is dedicated to transforming the power solutions industry – by empowering cutting-edge innovations and market-leading OEMs – thru the design, development and delivery of engineered power solutions for new technologies.