Design of fixtures for unique part measurements. 
Service Detail from Pratt & Whitney Measurement Systems, Inc.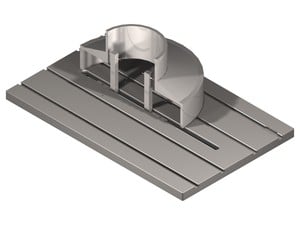 Engineering & Design
Whether you need a consultation on measuring a critical part or someone to bring your concept to reality, call upon Pratt & Whitney Measurement Systems. Our engineering team provides design services for developing custom accessories and fixtures for unique part measurements. Whether it's developing precision probes and styli assemblies, or creating custom fixtures to optimize the measuring process, Pratt & Whitney has everything you need to get the best Engineering services available.
Mechanical Engineers are adept at matching your applications specific needs to an engineered solution, determining overall system accuracy, load capacity, stiffness, torque, and other mechanical requirements. Software Engineers are experienced with gage programming, R&R capability studies, and data communications for a variety of software programs.
Follow us on:
Pratt & Whitney Measurement Systems
Pratt & Whitney Measurement Systems is a global supplier of ultra-precision metrology instruments, inspection gaging systems, and length measuring machines. Our comparator instruments incorporate the latest in laser and sensor technology allowing for fast and accurate measurements. Industry applications span across a wide range including, but not limited to: aerospace components, automotive parts, medical devices, thin film materials, roller bearings (tapered, cylindrical, spherical, needle), transducers, optical components, semiconductor devices, gear-spline-thread assemblies.
Calibration laboratory applications include: gage blocks, internal and external threads, national pipe threads (NPT), cylindrical plugs, pin gages, ring gages, dial / test indicators, length standards, taper gages, micrometers, calipers, snap gages, disc masters, API gages, thread wires, bore gauges, and your precision parts. Accredited by A2LA to ISO/IEC 17025:2005 (cert# 2629.01).