Dimensional Calibration Services
Service Detail from Pratt & Whitney Measurement Systems, Inc.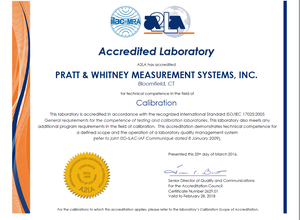 Dimensional Calibration Services
Pratt & Whitney Measurement Systems has the technical capability and the metrology expertise needed to make reliable calibrations of master artifacts, measuring instruments, and gauges. Our climate controlled Quality Laboratory, NIST calibrated masters and gage calibration equipment, coupled with our commitment to measurement excellence will provide low uncertainty and accurate results. Ring gauge calibrations and calibrations of Pratt & Whitney Measuring Instruments are accredited by the American Association for Laboratory Accreditation (A2LA) to meet all requirements of ISO 17025.
View our scope of accreditation.
Calibration Laboratory Features:
Calibrated environmental monitors
Quality Control Laboratory temperature range less than 0.3º Fahrenheit / hour [0.17º Celsius / hour]
High accuracy Labmaster Universal calibrators
Laser Interferometers
Engineering staff and experienced quality control technicians
Mylar reflective film and heavy cotton gloves used to minimize operator thermal radiation
NIST calibrated masters
Capabilities:
Step Gages / Gauge Bars / Surveillance Masters
Master Button Bar Calibration (laser interferometer)
Ring Gage Calibration Service (A2LA accredited / ISO 17025)
Long Gauge Block Calibration (A2LA accredited / ISO 17025)
Ball Bars (A2LA accredited / ISO 17025)
Instrument Calibration (A2LA accredited / ISO 17025)
Pratt & Whitney is a leading provider of dimensional measuring technology and metrology systems with over 11,000 installations worldwide. -the most TRUSTED NAME in dimensional metrology.