ID/OD/SD* gage calibration and part measuring
Featured Product from Pratt & Whitney Measurement Systems, Inc.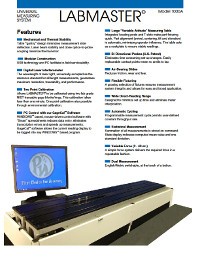 PDF Brochure - Labmaster Universal Model 1000A
Labmaster Universal - Model 1000A
Our most automated ID/OD/SD* gage calibration and part measuring system with a 40 inch (1016 mm) direct reading range and a 120 inch (3048 mm) capacity with optional probes. Features include laser interferometer, computer control, air bearings, bi-directional probes, constant measuring force, and flexible fixturing. These features offer guaranteed repeatability and operator independent reproducibility with unmatched speed.
Swivel, centering, tilt, and elevation adjustments are controlled with a press of a button or click of the mouse. For even more automated control, GageCal scripting allows the user to create a sequence of automated actions for complete automatic measurement of custom parts or gages. Automated positioning, alignment, and measurement practically eliminate operator influence and decrease measurement time. Instrument configurations, including table alignment and position, can be saved and recalled at a later time, minimizing setup time for common artifacts. GageCal also has predefined application screens and enters tolerances for various types of measurements such as blocks, rings, plugs, and threads.
With appropriate accessories, the LABMASTER Universal Model 1000A is capable of measuring rings (threaded & non-threaded), gage blocks, plugs (threaded & non-threaded), dial/test indicators, gage wires, micrometer heads, pin gages, tapered plugs (threaded & non-threaded), end standards, micrometers, and snap gages, all with NIST traceability. Only a handful of traceable masters, such as blocks, rings, etc. are needed (not included). The LABMASTER 1000A can also measure a wide range of specialty applications such as ID/OD bearings (radial/axial clearance), balls, shafts, optics, as well as your precision parts. P&W is accredited in accordance with the recognized International Standard ISO/IEC 17025:2005 by A2LA. Other specialty measuring applications include: gears, shafts, optics, film thickness, automotive parts, aerospace parts including aircraft engine parts, and your precision components can all be measured on the ULM.
The Labmaster®Universal Model 1000A measures:
Gage Blocks / Slip Gauges
End Standards / Bar Gauges / Ball Bars
Threaded Rings & Plugs
Tapered Rings & Plugs
Pin & Plug Gages
Pipe Threads (API)
Cylindrical Setting Gages
Gage Masters
Ball Bearings
ID/OD Large Diameter Rail Gages
Roller Bearings (Tapered, Cylindrical, Spherical, Needle)
Shafts
Micrometers
Setting Standards (Frames, Rods)
Dial / Test / Digital Indicators
Long Gauge Blocks and Meter Bars
Precision Measuring Tapes & Rules
LVDTs
Calipers
Lead Gage Setting Standards
Snap Gages
Large Diameter Gages (special frames: bridge, hump, "C", donut, adjustable)
Gears/Splines
Ring Gages
Dial Bore Gages / Swing Gages / Shallow Diameter Gages
Master Setting Bars / Setting Masters / CMM Masters / Precision Parts
Bubble Levels (coming soon)
New Capability: ID/OD/SD*
SD = Same-side Dimension (SD = both probes travel in same direction; For example: measurement of step gages)
Popular Measuring Options:
API Threaded Connection Frames (NUE, LTC, EUE, Line Pipe, STC, Buttress)
Dial Bore Gage Kit
Radial Internal Clearance (RIC) kit / Radial Play Gage
Axial Internal Clearance (AIC) kit / Axial Play Gage
Internal and External Thread Gages
Rotary Shouldered Connection Thread Inspection (semi-custom application)
Gear / Spline Accessories
Pratt & Whitney Measurement Systems
Pratt & Whitney Measurement Systems is a global supplier of ultra-precision metrology instruments, inspection gaging systems, and length measuring machines. Our comparator instruments incorporate the latest in laser and sensor technology allowing for fast and accurate measurements. Industry applications span across a wide range including, but not limited to: aerospace components, automotive parts, medical devices, thin film materials, roller bearings (tapered, cylindrical, spherical, needle), transducers, optical components, semiconductor devices, gear-spline-thread assemblies.
Calibration laboratory applications include: gage blocks, internal and external threads, national pipe threads (NPT), cylindrical plugs, pin gages, ring gages, dial / test indicators, length standards, taper gages, micrometers, calipers, snap gages, disc masters, API gages, thread wires, bore gauges, and your precision parts. Accredited by A2LA to ISO/IEC 17025:2005 (cert# 2629.01).