New SuperMicrometer PC
Featured Product from Pratt & Whitney Measurement Systems, Inc.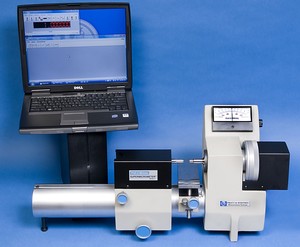 New SuperMicrometer PC
The Pratt & Whitney External Supermicrometer PC includes a laptop or desktop PC with a USB interface. System includes GageCal software with automatic tolerancing for external threads, plugs, pins, and balls. The high accuracy encoder features 1 millionth resolution. New accessories are available for all model Supermicrometers.
External Supermicrometer PC - Model PC250, PC375, PC500, PC625, SPL
New from Pratt & Whitney, a computer based bench micrometer and direct reading external measuring system designed for high accuracy gage calibration and part measurement. The fourth generation Supermicrometer PC has arrived and includes a USB interface with integral digital readout in the software. The Supermicrometer is the most popular bench micrometer in the world that can measure just about any manufactured precision OD part, turned part, or gages such as pins, plugs, and threads including API, NPT, NPTF, Dryseal, BSPP, BSPT, UN (Unified), M Profile (Metric), ACME, Buttress, UTS, UNC, UNF, UNEF, UNS, BSW (Whitworth), BA, BSC, BSF, BSP, to name a few.
Other additions include a high resolution rotary encoder capable of measurements to 1 millionth of an inch (0.025 micron). Pratt & Whitney's GageCal software is also included with the Supermicrometer PC and automatically enters tolerances for such applications as plugs, pins, balls, threads (calculates pitch/major diameter) and flags out-of-tolerance conditions. Calibration certificates can then be saved or printed to your custom needs. The Supermicrometer PC comes in four models of varying length capacities. We can even accommodate your needs for units up to a 40 inch (1000 mm) measuring range.
[Part # U302566-SPL also available. Special configuration for U.S. Government purchases].
The External Supermicrometer® Model PC measures:
Your Precision Parts
Pin & Plug Gages
External Thread Gages
Dial / Test Indicators
Taper Threads - Pipe Threads (API Gages)
Dial Bore Gages
Cylindrical Setting Gages
Spheres
Setting Masters / Setting Gauges
Taps, Dies, and Cutting Tools
Gears / Splines
Feeler Gages
Pratt & Whitney Measurement Systems
Pratt & Whitney Measurement Systems is a global supplier of ultra-precision metrology instruments, inspection gaging systems, and length measuring machines. Our comparator instruments incorporate the latest in laser and sensor technology allowing for fast and accurate measurements. Industry applications span across a wide range including, but not limited to: aerospace components, automotive parts, medical devices, thin film materials, roller bearings (tapered, cylindrical, spherical, needle), transducers, optical components, semiconductor devices, gear-spline-thread assemblies.
Calibration laboratory applications include: gage blocks, internal and external threads, national pipe threads (NPT), cylindrical plugs, pin gages, ring gages, dial / test indicators, length standards, taper gages, micrometers, calipers, snap gages, disc masters, API gages, thread wires, bore gauges, and your precision parts.