the ultimate gage block comparator
Featured Product from Pratt & Whitney Measurement Systems, Inc.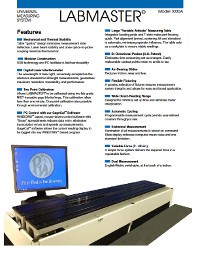 Labmaster Standard - LMS200
The Standard of Accuracy
Our highest accuracy and automated vertical measuring instrument can measure length and thickness with a push of a button. Our exclusive digital interferometer measures the dimension of the specimen by comparing the measurement probe position to the wavelength of a HeNe laser light source, effectively coupling the wavelength of light to the part being measured. Our patented laser path is in-line with the measurement axis to eliminate Abbe offset error.
The Labmaster Standard is the ultimate gage block comparator with many more uses besides gage blocks and can be used as a high precision height gage. The Labmaster Standard is also the instrument of choice for thickness measurement of thin, soft materials such as poly films, meshes, magnetic tape or disk substrates, and metal foils. Also, the ball manufacturing industry heavily relies on the Labmaster Standard for fast and accurate ball measurements with the aid of several specially designed anvils for this application.
The Labmaster®Standard measures:
Balls / Spheres
Magnetic Tape / Disk Substrates
Optical Components
Poly Films
Gage Blocks / Slip Gauges
Coating Thickness Standards
Plug & Pin Gauges
Thread Wires
Film Thickness
Gauge Block Stacks
Mesh Thickness
Textiles
Precision Parts
Features & Benefits of the Labmaster®Standard:
Rigid design - For maximum repeatability and reproducibility
Motorized probe - Improves system stability and eliminates operator influence
Digital laser interferometer- Guarantees maximum resolution, traceability, and performance
Two instruments in one - A direct reading instrument (thickness/height gage) and a 1-1 gage block comparator
Two-step calibration - Advanced time saving feature allows for calibration in only 30 seconds
Automatic cycling - Increases measurement throughput rate when measuring standard gage sets
GageCal® PC control software - Microsoft®Windows based software reduces data entry, eliminates transcription errors, and speeds up measurements. Built-in gage tolerancing for many applications including balls, pins, plugs, blocks, threads, etc.
Flexible anvil fixturing - Ensures system integrity and accommodates a variety of measurement applications
Pratt & Whitney is a leading provider of dimensional measuring technology and metrology systems with over 11,000 installations worldwide. -the most TRUSTED NAME in dimensional metrology.