Custom Molded Rubber Parts
Service Detail from Precision Associates Incorporated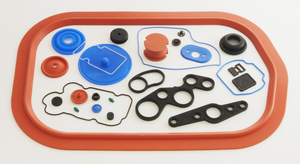 RUBBER SEAL SOLUTIONS....YOUR WAY!
Need a customized sealing solution? Look to Precision Associates, Inc. for assistance whether you need a special sized O-ring, X-ring, Lip Seal or Molded Gasket, Rubber-to-metal parts or any other CUSTOM SHAPE. We'll design and manufacture just what your situation requires!
We can build a mold directly to your specifications and drawings or our engineers can work with you to learn your specific needs, and then propose a number of alternative solutions from which to choose.
Most likely, one of our 1000+ compounds will be exactly what you need but if it isn't, we'll develop a compound designed to solve your problem.
Our In-House Tooling facility assures your mold is produced rapidly and economically so a custom solution can be delivered almost as quickly as one of our many standard solutions.
With our on-site tool shop, we can provide prototypes quickly and economically using your drawing, 3D model or sample parts.
Because we machine our own molds and develop rubber compounds, our engineers understand the requirements to successfully manufacture your part and can recommend changes that may reduce costs without compromising performance. The advantage of having your mold designed and machined by the same company that develops the material and delivers the finished product is that we have our arms around the entire process.
PAI specializes in homogeneous thermoset rubber and rubber bonded to metal or plastic inserts. Our manufacturing capabilities include product sizes from 36 inches to micro-miniature. We are the home of the World's Smallest O-ring!
Proudly certified ISO 9001:2008, our processes are designed to deliver top quality parts. All production is lot controlled to ensure that traceability is maintained throughout manufacturing. Each lot of rubber parts is 100% visually inspected for defects prior to shipment so you can be assured that only the best products arrive at your door!
Specialized secondary operations like color coding, laser engraving, custom packaging and labelling are available when you need that extra level of identification and quality control.
We carry an extensive number of seals available for immediate shipment. Need something special? PAI has thousands of standard molds available and our short lead time to produce parts is the most responsive in the industry! Turn to Precision Associates when you need parts quickly!
---