X-ring Seals Run Circles Around O-rings!
Product Announcement from Precision Associates Incorporated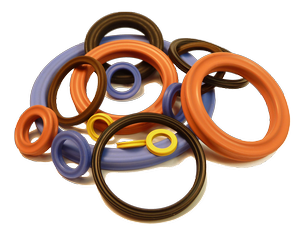 What Makes X-Ring Seals Better?
Twice the Sealing Surface — Multi-lobed design provides more sealing surfaces than standard O-Rings.
Prolonged Seal Life – With multiple seal points, less squeeze is required to provide an effective seal. Less friction and wear will increase seal life and lower maintenance costs.
Prevents Spiral Failure – The "X" profile creates a stable seal that is more resistant to rolling in the groove than an O-Ring when used in a dynamic application.
Reduced Leakage – Parting lines of X-Ring seals are located in the valley between the lobes away from the critical sealing surface.
Better Lubricant Retention – Grooves on the inside and outside diameter of these rings retain lubricant thereby lowering friction and extending packing life.
Less Force, Better Seal – Lower breakaway force and reduced operating pressures make them ideal inreciprocating applications.
The Right Fit – X-Rings will fit in standard O-Ring grooves.
X-Ring Seals are available "off the shelf" in standard 70 duro NBR— Compound 5716
Three week delivery on non-stock items!
Call us Today!
800-394-6590
---