Industrial Facility Solutions
Service Detail from Precision Automation Co., Inc.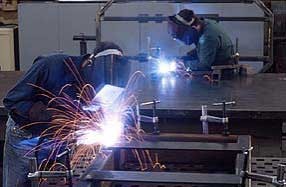 Precision Automation® Company, Inc. is a leader in the manufacture of industrial machinery, engineered systems, conveyor systems and integration services.
There are many ways in which Precision Automation can help your business grow and improve its process. We have over 65 years of experience in improving our customers efficiency though our automation systems. Below are a few of our business units that, through their capabilities, enable us to provide cost-effective solutions to your business.
Read about our recent accolades in Quality Magazine!
Contract Manufacturing and Machining Services:
Our manufacturing facilities are equipped with a full range of extensive production equipment that enables us to produce the machines and parts that you need. Utilizing small and large CNC Machining Centers, CMM Equipment, Welding Equipment, Test Equipment, and High Bay Assembly Space, Precision Automation® will exceed your expectations with our contract manufacturing and machining capabilities.
How you benefit:
Cost Savings - You do not need to invest in new production facilities, or hire additional skilled labor, to produce your product.
Plant Space Savings -You save scarce plant production space by having us do the work for you.
Equipment & Production Technology/Expertise - You have access to the latest equipment design and production technologies through our experienced staff of engineers and production personnel.
Quality Control - You benefit from our rigorous quality management system procedures. We are ISO 9001 certified and ensure quality products and services.
Our Machine Shop Equipment:
CNC Machining Centers
CNC Turning Centers
CNC Horizontal Boring Mills
Vertical & Horizontal Milling Machines
Bullard Vertical Turret Lathe
Surface & Cylindrical Grinders
Automatic Cut-Off & Cold Saws
Deep Hole Drill, Hone & Keyseater
Certified Inspection & CMM Machine
CLICK HERE for more information on our Contract Manufacturing and Machining Services.
The Engineered Systems Division of Precision Automation:
No matter what your requirements; an Integrated System or a Special Machine for Packaging, Assembly, Testing or Production, Precision Automation® has the solution to satisfy your needs.
Do you need an entirely new system, machine or process? Or do you need help improving throughput and efficiency of your current production? Our skilled team will create a cost-effective solution that will solve your problem.
Call us today or visit our Engineered Systems WEBPAGE.
Integrated Conveyor Solutions:
Precision Automation® offers automated solutions for your product-handling needs, from individual conveyors to integrated systems. We are a distributor for several major conveyor manufacturers, which allows us to select the proper equipment to meet your requirements. We can ensure that you will get exactly what you need.
Our services include:
Engineering & System Design
Conveyors and Systems
Controls
Installation, Startup and Training
24-Hour Shipments
Our skilled team will work tirelessly to meet and exceed your needs. Give us a call today or visit our Conveyor Systems WEBPAGE for more information.
At Precision Automation®, our years of experience and expertise give us the confidence to tackle your unique challenges. We will become your partner, committed to improving your process, cutting your costs, increasing efficiency and improving your business overall.
For a full understanding of our overall business and our products and services, we encourage you to visit our HOMEPAGE, check out and subscribe to our BLOG, "like" us on Facebook, see our YouTube videos and connect with us on Linked In!
CONTACT US TODAY, we look forward to working with you!