Control Systems from Precision Automation
Service Detail from Precision Automation Co., Inc.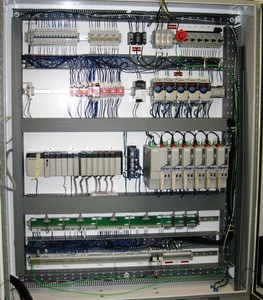 The Engineered Systems Division of Precision Automation® offers state-of-the-art Control Systems to operate our equipment, including SCADA Systems for overall line control, as well as stand-alone designs, per your requirements.
Our engineers are well versed in the latest hardware technology and will design a system that meets your needs.
We also provide software design and implementation for motion control and equipment operation. From basic controls to complex systems, we can provide a solution that is easy to maintain and operate!
Our Services Include:
Control Design
Software Design
Project Management
Control Panel Fabrication & Assembly
Pneumatic Piping
Control Panel Test
Software Installation & Test
Documentation
From prototypes to production runs, Precision Automation® offers a complete electrical department with an experienced staff of electrical engineers fully capable of meeting all of your controls and wiring requirements.
Visit our Control Systems Webpage or Contact us today and let us explain how we can best serve the needs of your business.