Automated Sandwich Assembly Line
Service Detail from Precision Automation Co., Inc.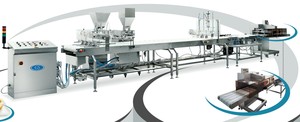 Introducing our Automated Sandwich Line! Automate your sandwich production and increase efficiency, improve hygiene, speed up production and create consistent quality sandwiches all while dramatically reducing operating costs!
Precision Automation Company and GS Italia S.r.l. of Marnate, Italy are pleased to present our Automated Sandwich Equipment.Precision Automation markets, sells, manufactures, installs and services GS Italia's Automated Sandwich Line Equipment in North America.
The "modular" design of the systems allow for different levels of automation making them dependent on the requirements of the producer.
The Sandwich Production Line is a complete in-line system and utilizes this modular design for maximum flexibility and high productivity. These lines are capable of producing up to 60 sandwiches per minute.
The systems employs a sandwich centering system that ensures consistency and ultrasonic cutting technology for clean, accurate cutting of any meat or filler.
By automating sandwich production, companies can increase efficiency, lower costs and provide superior sandwiches at a consistent quality and fast rate.
These superior automated lines will save money, increase throughput and dramatically improve your sandwich making process, guaranteed.
North American operations are based out of Precision Automation's New Jersey plant. It is a natural fit with the 65-year old company's capabilities, resources, experience and tradition of providing high quality automation systems, machinery, controls and integration services.
Precision's expertise in manufacturing and integration, coupled with GS Italia's innovative sandwich production line, will revolutionize the sandwich production industry.
Visit our Automated Sandwich Line webpage or call us (856 428-7400) for more information on how we can dramatically improve your process.
Click Here to request additional information.
Be sure to see the VIDEO below to get a better idea of the Automated Sandwich Line capabilities!
---