Labeling System Solutions
Product Announcement from Precision Automation Co., Inc.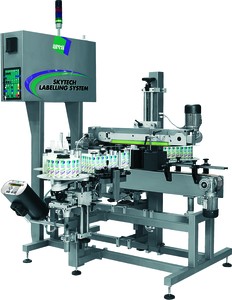 Arca Automation provides a complete line of pressure sensitive labeling and identification systems. Supporting a wide variety of industries with single Label Applicators, Print & Apply machines and complete multi-head integrated systems, we have a solution for your needs!
Read about our recent accolades in Quality Magazine!
LABEL APPLICATORS:
Ideal for any production line, Arca Label Applicators are designed to handle a various applications in any industrial environment. Dispensing speeds range from 65 to 330 ft/min.
Three models are available to suit your production requirements: EASY, EVOLUTION and WIND. Each model is available with a variety of peelers and applicators.
Learn more about our Label Applicators HERE.
PRINT AND APPLY:
Arca's Print and Apply models are efficient, easy to operate, and are suitable for any industrial environment. A wide range of pneumatic applicators guarantee the maximum flexibility and enable printing in real time. The electronics can be onboard or independent from the machine frame allowing the control unit to be positioned in the most convenient location for the operator.
Print & Apply Labelers are available in the following models: EasyLiner, Value LinerPlus, LinerPlus Advanced, and the innovative, cost effective and environmentally friendly LINERLESS!
We are also happy to introduce our InkJet Print & Apply system for high speed Print & Apply applications.
Be sure to ask about our Auto Applied Enclosed packing List Print & Apply System! This is a specialized version of our LinerPlus machine that simultaneously applies two labels at once, essentailly doing the job of two machines in one. Applications for this system vary but we are focusing on a machien taht simultaneously applies a shipping label and packing list for end of line applications.
Our Print & Apply machines can be supplied with SATO or ZEBRA digital printing modules; the global leaders in thermal transfer technology. All SATO and ZEBRA print modules operate with both pigment thermal transfer (t.t. ribbon) and direct thermal printing.
Learn more about our Print and Apply Labeling Systems HERE.
COMPLETE LABELING SYSTEMS:
Systems are designed for in-line labeling of products with rectangular, square, elliptical, cylindrical or conical shapes and can be equipped with Arca Labelers, Print & Apply, Inspection and Verification Systems.
While we provide solutions for standard applications, we specialize in the labeling of unique applications such as conical containers and tubs. Labeling tapered containers requires heightened accuracy and precision, and with our expertise, we have tackled this challenge. Where many labeling companies have steered away from these applications, we have excelled and welcome the challenge. Check out this video of a recent system labeling conical tubs up to 70 per minute!
Three models are available: (systems are entirely customizable for your specific application)
Light: for single label applications.
Solid: for applications requiring up to two labels.
SkyTech: for applications requiring one to four labels in large scale production (the image above and attached video feature a SkyTech System).
Customized Rotary Vial Labeling and Inspection Systems. Learn more and see a video HERE.
Learn about our Complete Production and Packaging Line Integration Solutions by CLICKING HERE!
Also, Learn about our innovative POWERKIT option, a unique and high speed labeling system which offers synchronous dispense labeling with Thermal Direct and Thermal Transfer printing capabilities. CLICK HERE to learn more!
We have many more videos available: Label Applicators, Print and Apply, LINERLESS, Systems and much more. See all of our YouTube Videos Here!
A LITTLE MORE ABOUT US:
Visit Arca Automation's website!
Arca Automation, based in Cherry Hill, NJ, markets, sells, manufactures and services Arca Labeling Machinery in North America. We are supported by Precision Automation Company, Inc. of Cherry Hill, NJ and Arca Etichette SPA of Milan, Italy.
Precision Automation has over 65 years of experience in contract manufacturing, engineering, integration and custom machine building. Arca has been manufacturing labels for over 55 years and label application machinery for over 30 years.
Located at Precision Automation's facility, Arca Automation shares Precision's vast capabilities. This enables us to provide superior value. See a Profile of Precision Automation HERE.
Precision Automation is an engineering automation business founded and managed by industrial, mechanical and electrical engineers. Our fully tooled machine shop, 45,000 sq/ft facility, skilled team of machinists, engineers and project managers enables us to tackle your most unique labeling challenges.
CONTACT ARCA AUTOMATION or Request a Quote today and let us show you how we can serve your business!
Connect with us on your favorite Social Media site! Facebook or Linked In, and be sure to visit our BLOG!
---