Custom Elastomer and Rubber Shapes
Product Announcement from Precision Gasket Company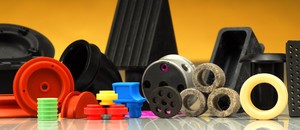 Solving leaks, interference, noise, vibration, movement and overheating
PGC delivers innovative manufacturing solutions that meet the performance and quality demands of OEMs worldwide.
Dedicated application engineers that help solve problems in manufactured products
Specialized experts for specific capabilities
Clean room technology
Prototype testing lab
Extensive network of knowledge partners-from 3M to start-ups who are advancing new materials and technologies
Harsh environments, unknown use cases, demanding timelines-PGC solves the toughest parts development and supply challenges.
Precision Gasket Company delivers innovative manufacturing solutions that meet the performance and quality demands of our regional, national, and global customers. It's something we've been doing now for over 60 years.
We're more than just seals and gaskets. Our solutions also encompass the areas of EMI and RFI shielding, thermal interface, sound and vibration control, and pressure sensitive adhesives.
At PGC, it's not just about what we make; it's also about what we can make. We develop dedicated partnerships with our customers that result in win/win outcomes. Our track record of innovation in product technology, lean manufacturing efficiency, and business processes have led to successful product developments for some of the biggest names in the medical device, lawn and garden, construction, electronics, defense, and automotive industries.
When you partner with PGC, you align with a proactive participant where we've created our own definition of value:
VALUE = FUNCTION / COST
This formula focuses on where you've been with a project, where you're at now, and where you could possibly take the project, using our signature 4D process:
DISCOVER // DIAGNOSE // DESIGN // DELIVER
Whatever challenges you face with design, cost, reliability, or manufacturability, PGC strives to resolve these challenges and turn your product vision into reality.
Eliminate waste
Find optimal material solutions
Locate hidden value
Reach performance solutions that help you compete
Build your revenue streams and make your products better
PGC Values:
Service- Pride in a job well done
Imagination- An innovative sense of adventure
Continual Growth- Commitment to lifelong learning
Contribution- Every person counts in our success
Integrity - We take the high road
Product Families:
Smart Ideas.
Proven Results.
Deflect. Damp. Absorb.
Sound and vibration control is a challenge when you're facing compliance, safety issues and more importantly-competitive product objectives.
The specialists at PGC help you overcome these challenges by identifying the transmission path and treating it with material science and technology. We help you compete in the marketplace with:
Extensive knowledge of regulatory compliance across the globe
Smart analytics into pressure level, sound power, transfer path, noise source ranking and more
A proven process to achieve the best balance between performance and cost
Dedicated engineers, total quality assurance, certified LEAN production process and ISO 9000 certification

Noise is unwanted sound
The unwanted effects of moving parts and noisy equipment from harsh conditions or extreme environments can add to a product's self-generated noise and vibration-- making a carefully engineered solution mandatory.
Seal. Fill. Contain.
Seals and gaskets fill the gap between two objects to prevent leakage while under compression. PGC offers a wide variety of gasket and sealing technology to ensure tight closure and protection.
Gaskets and seals help save money by allowing less precise mating surface machining. They're inexpensive, unless they fail. That's why PGC helps develop your knowledge so you end up with the best possible solution for your unique application.

It's technology not taught in schools-the reason the PGC Development Center offers technical seminars on Seals & Gaskets. It's a valuable place to learn, discover and discuss innovative solutions to reduce costs and improve long term performance for your project.
Gaskets are critical elements for all
applications in a wide range of industries:
Mechanical Seals
Engineered Rubber
Electrically Conductive Gaskets
Exhaust Manifold Gaskets
O-Rings
Radial Lip Seals
Flange Gaskets
Connector Gaskets
Take Down/Connector gaskets
High conformability gaskets
Filtration gaskets
Electronic protection gaskets
Rubber gaskets
Sustaining Product Performance
Electromagnetic interference (EMI) and radio frequency interference (RFI) are disturbances that affect an electrical circuit. The disturbance may degrade the effective performance of the circuit.
Protecting susceptible circuits and cables from unwanted electrical and thermal energy is a PGC specialty. Our engineers develop custom components that stop radiated and conducted energy emissions, in both EMI/RFI and thermal forms.

Custom EMI/RFI component solutions:
Custom EMI conductive gaskets
EMI frame gaskets
EMI connector gaskets
Conductive EMI O-Rings
Conductive EMI Shielding tapes with adhesive
Board level shields
EMI Absorbers
Knitted wire mesh
Conductive elastomers
Oriented wire elastomers
Conductive particle filled elastomers
Metalized elastomers
Metalized fabric over foam
Wire mesh over elastomer
Conductive adhesives
Conductive extrusions
Conductive sheet stock
ESD conductive plastics
Custom thermal interface component solutions:
Gap fillers
Sil-pad products
Gap-pad products
Thermally conductive, reinforced gap-filling products
Thermally conductive, silicone free gap filling products
Thermally Conductive Acrylic Interface Pads
Conformable, Thermally Conductive Material for Filling Air Gaps
Cut-Through Resistant, Electrically Insulating,
Thermally Conductive products
Electrically Insulating, Thermally Conductive Elastomeric products
Kapton®-Based Insulator products
Bonded Laminate of Sil-Pad with a Copper Shield
Adhesive tapes
Thermally Conductive, Fiberglass Reinforced Pressure
Sensitive Adhesive Tape
Adhere. Seal. Stabilize--with Sticky Strength
If you're looking to cut costs, increase production and simplify your assembly process, pressure sensitive adhesives (PSAs) can maximize your application success. PSAs are aggressive, tacky substances that adhere with pressure, exert a strong holding force and strengthen your competitive advantage in the marketplace.
PSAs allow you to:
Reduce stress points
Reduce assembly time
Distribute forces across wider surfaces
Achieve miniaturization
Enhance appearance
Improve process and performance
From rubber and acrylic to silicone, PSAs carry different performance characteristics based on:
Temperature
Chemical
Forces
Pressure
Duty cycle-the level of use and demand
At PGC we don't just help you choose the right adhesive; we capture the complexity of your vision
We assess your situation and find the best balance between cost and performance. Your complex application needs a highly engineered supplier to help you innovate, maintain momentum-and keep you in the forefront.
A manufacturing partner of choice-for reasons beyond the parts
PGC offers design, development, engineering-- and a manufacturing facility that delivers millions of parts for a variety of complex applications. Our facility is audited by some of the most respected OEM brands in the industry. But to them, our value lies beyond our manufacturing methods, quality process, lean manufacturing standards, or robust material library.
It's about "how we think."
Yes, we prep, press, package and ship. But our strategic projects business defines our growth-a testament to the type of value our customers rely on:
Highly engineered and/or high volume applications
Rugged use, reliable and durable applications
Engineering innovation
Material innovation
Difficult manufacturing challenges
Maximum quality
Rigid specification and tolerances
Supply chain coordination and management
Multi-project management
On-time delivery
If you need help with a part or solution to fit your application, or need to order one of our products from stock, you can count on Precision Gasket Company. We manufacture solutions that meet the performance and quality demands of our regional, national and global customers. Thank you for the reach out. How can we help?
---