Nanofluor® Y75G nano-filled elastomer seal
Product Announcement from Precision Polymer Engineering Ltd.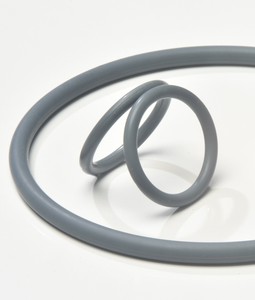 Elastomers that are highly plasma or chemically resistant have traditionally been synonymous with high inorganic filler content and/or, large micron+ sized filler particles - with the obvious risks of contaminating wafers.
Alternative fully organic or unfilled materials reduce the risk of contamination however; the potential for particle generation is not completely eliminated and such materials generically have higher chemical erosion rates in aggressive environments.
Nanofluor® Y75G is a NEW seal material that uses a specialised non-metallic, inorganic nano-filler specially compounded to ensure a highly uniform dispersion within the matrix. What's more, this new material leads the field in benchmark testing in various plasma sources.
Features:
Low filler content
Nano-filler particle size 25nm-50nm
Ultra-uniform filler dispersal
Highly fluorinated base polymer
High chemical and plasma resistance
Ultra-low total trace metal content
Data on process chemistry compatibility
Benefits:
Ultra-low erosion rates and low cost of consumables
Minimal risk of particle contamination and yield loss
Unchanged device electrical characteristics/specifications
---