New plasma resistant seal materials for semicon
Product Announcement from Precision Polymer Engineering Ltd.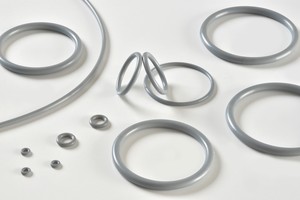 Precision Polymer Engineering (PPE) will be launching two new high performance sealing materials, Perlast® G65HP and Perlast® G67G, at SEMICON West 2017 this July.
Both new Perlast® material grades are perfluoroelastomers which incorporate low levels of advanced nano-particle fillers. These materials have been formulated for minimal particle generation, and following comprehensive testing using different plasma chemistries and plasma sources, data shows the new materials perform better than their closest competitors.
Within critical semiconductor manufacturing applications, where the seal is in direct contact with the chemistry, the challenge is sourcing a seal that is of the highest purity, plasma-resistant, has low concentrations of nano-particle filler (that is compounded to reduce particle agglomeration), yet is competitively priced. Selecting an appropriate sealing material is imperative to avoid wafer contamination, which can reduce yield. In addition to this, it is also important to ensure seal lifetime compatibility with existing maintenance cycles and identify opportunities to increase the process tool productive period, or uptime, leading to lower cost of consumables.
Perlast® G65HP incorporates a unique formulation developed specifically for critical semiconductor processes where the seals are in direct contact with plasma. This new material grade provides excellent plasma resistance in high concentration radical fluorine plasma, as well as other plasma chemistries. With a 100% organic structure, Perlast® G65HP minimizes the risk of particle generation, resulting in extended maintenance cycles. In addition, with fewer than 10k parts per billion trace metals, this material is ideal for manufacturers of devices at advanced technology nodes, and those manufacturers wishing to ensure the integrity of device electrical specifications and minimal reliability failures.
Perlast® G67G has been formulated to deliver excellent resistance to aggressive oxygen, chlorine and fluorine-based plasmas. Together with outstanding thermal and mechanical resistance qualities and similarly low particle generation to Perlast® G65HP, Perlast® G67G is ideally suited to wet and dry etching, stripping, cleaning and PVD processes.
---