PTFE Seals
Featured Product from Precision Polymer Engineering Ltd.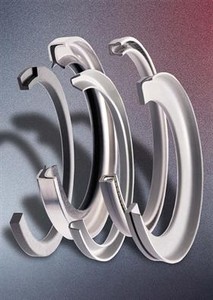 PTFE seals are often used in hydraulic and pneumatic applications and offer several advantages over traditional elastomer solutions. Delivering low friction at high pressure is arguably the most important of these however; low stick slip, high abrasion resistance and universal chemical compatibility are all factors which make PTFE seals an important option when designing efficient and reliable sealing systems.
The sealing efficiency of PTFE is generally worse than that of traditional elastomer solutions. Therefore, careful consideration of the overall seal specification is required for the system to operate successfully. This often results in combinations of seals being used, including those manufactured from elastomer materials. With this approach, seal systems can be designed to have low friction characteristics and 100% sealing efficiency.
PTFE seals are typically energised by a static secondary system. In most cases, this will be in the form of an elastomer which is compressed radially to provide a static seal and the force necessary for the profile ring to seal at low pressure. In other cases, metallic springs can be used where there is a media compatibility issue for example. PTFE materials vary depending on the particular application involved. Resistance to extrusion, abrasion resistance and sealing efficiency can all be affected by the individual compound and geometry being used.
PPE's sister company, FTL Technology offer a range of PTFE seals, contact them directly on +44 0845 120 7415