Perlast® Helios seals best in class for plasma
Featured Product from Precision Polymer Engineering Ltd.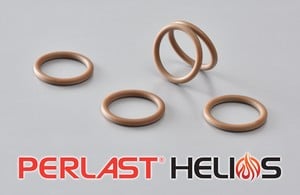 Precision Polymer Engineering (PPE) has released Perlast® Helios G7HA, an FFKM sealing material for semiconductor applications proven to deliver superior plasma resistance.
Precision Polymer Engineering (PPE), manufacturer of high-performance sealing technology, has launched Perlast® Helios G7HA as a new material for the critical semiconductor market. In extensive testing, Perlast® Helios G7HA outperformed competitor materials in aggressive plasmas – including high concentrations of fluorine radical plasmas – at temperatures up to 310°C.
"Perlast® Helios G7HA is a step change in semiconductor equipment sealing," said Ben Green, Business Line Manager for Semiconductor at PPE.
"This new material has been developed in line with what our customers have been asking for – a fully organic FFKM which delivers outstanding plasma resistance in high temperatures. We're delighted with the results from laboratory testing and customer trials. We're confident that G7HA will play a key role in cutting equipment downtime and reducing overall cost of ownership across a wide range of semiconductor applications."
Outperforms in harsh plasma environments
Perlast® Helios G7HA has been tested extensively in a series of plasma environments (RPS NF3, RIE NF3, CCP NH3, RIE SF6, RIE O2 and CCP O2). In each environment, the new G7HA grade demonstrates a significantly lower plasma erosion rate than leading competitors – and 27% lower in NF3.
G7HA eliminates trade-off between purity and plasma performance
Previously in the semiconductor sealing market, compromises had to be made between seal purity and high performance in plasma environments. Perlast® Helios G7HA is one of the first elastomer innovations to give reliable results across both purity and resistance to aggressive plasmas.
Lower trace metals than other plasma-resistant FFKMs
Perlast® Helios G7HA is a fully organic material grade, with analysis showing extremely low trace metal levels and low particle generation when measured against comparable FFKM and FKM sealing materials. Low trace metals and low particle generation are key to reducing process contamination, significantly increasing yield and reducing operational downtime.
Perlast® Helios G7HA has been developed for use in wet and dry semiconductor processes, including etching, stripping and cleaning. The new material is expected to be moulded into dynamic and static sealing products, including isolation valves, chamber O-rings and gas inlet seals.
Perlast® Helios G7HA is the latest material grade to join the Perlast® family of perfluoroelastomer (FFKM) elastomers. Perfluoroelastomer is the most chemically resistant elastomer available, and is effectively a rubber form of PTFE. Perlast® seals are used in critical sealing applications where purity and performance are paramount.