Glass-Thickness Measurement Option
Product Announcement from Precitec, Inc.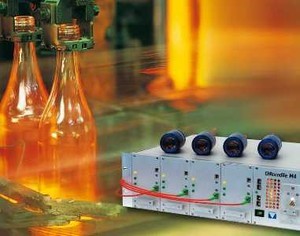 CHRocodile sensors have become the standard in the container glass inspection industry. With the addition of new probes, brighter light sources, and even higher speed sensors, there are now more options for inline measurements.
The high-speed, robust measurements work on bottles where other technologies cannot. In the corners, shoulder and heel the thickness variation can indicate a larger production problem overall. By monitoring the thickness at these locations inline, it is possible to tweak the processing or change the molds before it becomes a larger problem.
Precitec has recently released a series of small round probes designed specifically for use in the container glass industry. The size and specifications are tailored to perform on a wide range of containers, including small non-rounds and dark bottles.
Another addition is the CHRocodile SE, which offers a white light LED with a measurement rate of 4kHz. The CHRocodile M4 is a multi-channel halogen based system that can be configured with various probes to meet your specific measurement needs.
For product sheets or questions on the new technology, contact us today.
---