Ceramic Machining
Service Detail from PremaTech Advanced Ceramics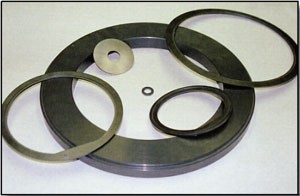 PREMATECH ADVANCED CERAMICS combines the highest level of service with an extensive knowledge of ceramic machining. A truly scientific approach is applied to the process to maintain consistency, reliability, and cost-effectiveness.
Products Machined
Automotive Components
Ball Valves and Seats
Balls
Blades
Ceramic Mirrors
Compression Test Specimens
Diffusion Components
Edge Ring
Electronic Packaging
Etch Rings
Fluid Metering Pumps
Focus Ring
Heat Sinks
Heat Spreaders
Lift Pins
Mechanical Seals
M.O.R. Bars
Plasma Showerhead
Powder Compacting Tools
RCF Rods
Semiconductor Components
Susceptors
Tensile Test Specimens
Wafer boats
Wear Parts
Vacuum Chucks
About PremaTech Advanced Ceramics:
PREMATECH ADVANCED CERAMICS has provided steadfast and consistent ceramic component machining service and distribution of related products to a variety of market segments since 1980. The tradition of application adaptive machining combined with science based methodologies continues with support of ISO 9001:2000 certification. For all of your ceramic needs, please come to PremaTech and you will receive ceramic products quickly, reliably, and cost effectively.
Please click on the links to the right for more information or request a quote today!

---