GSPVS VS4 Vertical Sealless Sump Pump
Featured Product from PPI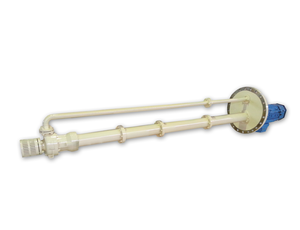 The VS4 vertical inline shaft sealless magnetic drive sump pump is fully ATEX compliant and meets API-685 standards.
Flows to: 308 usgpm (70 m3/hr)
Heads to: 262 ft (80 m)
Despite its compact design, which includes no failure-prone seal components to leak and fail, the vertically suspended GSPVS VS4 is capable of delivering significant cost savings over the lifecycle of the unit. Additionally, the GSPVS vertical casing presents a minimal footprint, saving valuable space in your operating environment.
The GSPVS utilizes greased for life ball bearings along the column, removing the need for lubricating or cooling the intermediate sleeve bearings with system fluid. Plus, the integration of labyrinth bearing seals and a suction strainer eliminates external contamination, thus maximizing seal and lubrication life.
The GSPVS has a modular design that allows end users to join multiple units together in order to meet their configuration needs. Total assembly length of up to 16 feet (5 meters) configuration is available. The pump is mounted on a base that meets ANSI B16.5 or customer-specific requirements. The modular construction features flexible jaw couplings to join drive shafts and absorb misalignment, decreasing vibration and further increasing life pump expectancy.
The GSPVS VS4 is well suited for applications including fuel transfer in oil and gas refineries, as well as chemical and petrochemical process plants. These compact VS4 sealless pumps are also an ideal complement for airport fuel tank farms.