KMLF Low Flow Pump
Featured Product from PPI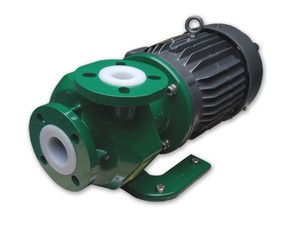 The KMLF is a standard chemical process sealless magnetic drive non-metallic centrifugal end suction pump.
This ASME / ANSI standard pump covers a wide range sizes and includes standard external dimensions so that pumps manufactured by other suppliers are dimensionally interchangeable with highly reliable Sundyne ANSIMAG sealless magnetic drive pumps without changing piping or baseplates. Our sealless magnetic drive pumps meet standard design specifications and materials of construction.
- Flows to: 40 GPM (9 m³/hr)
- TDH: 170 Ft. (52m)
The KMLF is ideal for Low Flow corrosive or acidic applications in the chemical, specialty chemical, and steel industries.