Air Motors for Medical and Industrial
Product Announcement from Pro-Dex, Inc.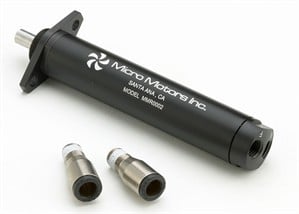 The Pro-Dex Custom Motor Team responds to your design needs and customizes air motors to fit virtually any small size and high-power application. Specific requirements for mounting, autoclaving, and speed-to-torque ratios can be accommodated. Pro-Dex maintains design, engineering and production staff all under one roof, which reduces development and lead times.
Pro-Dex motors meet your demanding needs of torque and speed. At only 3/4 inch in diameter, these precision motors produce stall torques from 2.8 in-oz to 1200 in-oz, at free speeds of 40,000 RPM to 7 RPM. Motors are available with either direct drive or internal gearing.
Features
Operates on compressed air, nitrogen or other inert gases at pressures up to 150 PSI
Aluminum and stainless steel construction
Advanced rotor blade design and highly polished cylinder for continuous operation
Precision ball bearings virtually eliminates friction and wear
Motors remain cool, even when operated under continuous load
Repeated stalling, instant reversing will not harm the motor
Spark-free operation is suitable for use in contaminated, wet or explosive environments
Instant on, instant off, no wind-up or coasting
Hardened planetary gear system provides increased torque transmission capabilities and long life
Lower air consumption than larger motors conserves energy

Play Air Motors for Medical and Industrial Video
---