P2/3 Series Electric Actuators for Industrial Use
Featured Product from ProMation Engineering, Inc.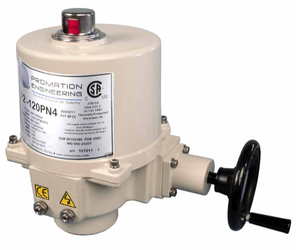 The ProMation Engineering P2/3 Series is an electric actuator designed for load requirements ranging from 800 to 1335 in lbs. Suitable for ball or butterfly valves or damper applications. The P2/3 Series is built industrial tough and provides an 18 month warranty.
Features:
Clutchless Manual Override
12VAC/DC, 24VAC/DC, 120VAC, or 230VAC supply voltages and 3 phase applications. (Not all voltages are available with all options.)
Raised indicators clearly show actuator position
Self locking steel gear trains
Internal low power anti-condensation heater
NEMA 4X environmental rating
Standard with two auxiliary switches (Form C)
More information about the rugged P2/3 Quarter Turn Electric Actuators can be found at www.promationei.com.
Options: The P2/3 Series and the majority of ProMation's quarter turn product line can be outfitted with:
On/Off/Jog functionality
Optional Proportional Control
Torque Switch
Feedback Options
Local control stations
Timers to slow the open/close rate
Drive inserts
Electrical interfaces
Custom engineering and manufactured solutions
A wide array of flexible solutions to meet your application requirements
The ProMation product line includes several models providing torque ranges from 55 in lbs (6Nm) to 40,000 in lbs (4500Nm) that satisfy a broad scope of application solutions.
For more information about our quarter turn product line.

For more information or to call for a quote, phone 352-544-8436 or visit www.promationei.com