Quarter-Turn Electric Actuators, In Stock
Featured Product from ProMation Engineering, Inc.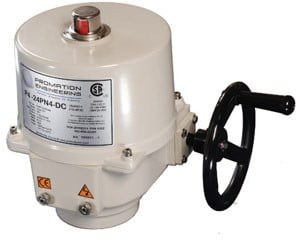 The ProMation Engineering line of quarter-turn industrial actuators are our flagship products with regard to reliability, application flexibility, and optional configurations. They have been used primarily on butterfly and ball valves, but also on air handling louvers and gas shutoff valves.
Features and Benefits
Rugged Board Design for increased electronic connection reliability
Patented Self-Locking Drive and Epicyclic Gearing - No Brake or Clutch, increasing mechanical reliability
Proportional, Jog or On/Off Control - Responds to a wide range of industry-standard signals
NEMA 4/4X Cast Aluminum Alloy Housing - Resists environmental attack
ISO5211 Mounting System - No bracket/coupling required for most valves - lower profile
Standard Internal Heater and Dual SPDT Auxiliary Switches - Normally not standard on other actuators
Manual Override for single-handed positioning (handwheel on P2 and larger, socket on P1 & P1.A series)
Easy-to-see Raised Position Indicator
Positive Mechanical Stops in base (600 in lbs and above)
Ambient Operating Range -22°F to +125°F (-30°C to +52°C) with internal heater