Economical Low Torque Electric Actuators- In Stock
Featured Product from ProMation Engineering, Inc.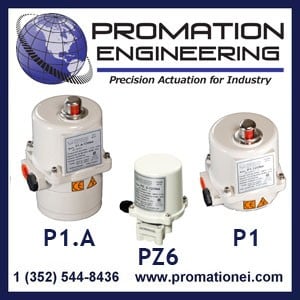 Economical low torque range electric actuators for industrial applications - IN STOCK, QUANTITY DISCOUNTS MAY APPLY
For requirements of 55 inch pounds to 445 inch pounds of torque, ProMation Engineering Actuators are engineered for reliability in industrial applications. These compact actuators are available in various speeds, voltage and control options.
PZ Series Compact Electric Actuators for Valve and Damper Applications
P1 Series is available in 3 speeds in various voltages and control options

P1.A Series for 445 inch pound torque applications in various voltages and control options
Built tough for Industrial Applications: Powder coated cast aluminum alloy housings, permanently lubricated clutch-free steel gearing, visible position indicators, and manual overrides mean serious performance.
All Actuators are NEMA4/4X / IP67 rated and available in wide range of voltages. ProMation Engineering Actuators are engineered for harsh industrial service to increase performance and reliability.
The PZ Series industrial electric actuators, offered by ProMation Engineering, are designed for load requirements ranging from 55 in lbs to 135 in lbs of torque. The compact actuators are designed for limited-space situations and are reliable, commercial-grade solutions for smaller valve and damper applications.
The PZ series standard features:
Available supply voltages: 24vac, 120vac, and 230vac
On/Off/Jog control capabilities
ISO5211 F03/F05 mounting pattern and a 14mm double-square female drive shaft
NEMA 4/4X / IP67 environmental rating
Manual override including lock-out functionality is a standard integration in the PZ Series
ProMation Engineering's P1 Series of electric actuators are engineered to eliminate wiring errors, increase reliability, and provide simplicity for load requirements ranging from 135 in lbs to 445 in lbs of torque.
The P1 series standard features:
Internal anti-condensation heater
NEMA 4X / IP67 environmental rating
Available supply voltages: 12VAC/DC, 24VAC/DC, 120VAC, or 230VAC supply voltages
Two auxiliary switches (shared common, rated at 3A 250V Max)
ISO5211 compliant mechanical connections and multiple bolt patterns
3 different speeds are available (3, 8, and 12 second runtime @ 90°)
The P1 Series of electric, non-spring return actuators are available in on/off (two position models) that can also be used in bump/jog applications. Additionally, the actuators can be ordered with an internal proportional control card that accepts a wide range of control signals and generates multiple feedback signals. Fail safe solutions are available for the P1 Series as a separate factory built option.
All options are factory installed, calibrated, and tested. Compare the many units offered. Contact us today at (352) 544 8436 for a quote!