Electric Spring Return Actuators -Failsafe
Featured Product from ProMation Engineering, Inc.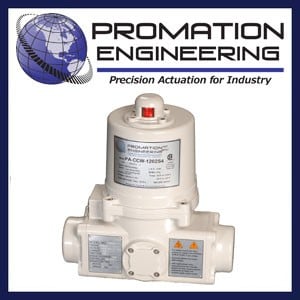 The PA series actuator is a SPRING RETURN electric actuator designed for load requirements up to 450 in lbs. Upon loss of power the spring returns the valve or damper to its proper safe position. As pictured, the PA has no override -- the override handwheel option is available and is a very popular.
The PA Series is offered in two different control modes: On/Off (2 position control) or Proportional (modulating control). Application requirements will dictate whether to utilize a CW (clockwise spring return) or CCW (counter-clockwise spring return) model.
Spring return direction is NOT changeable and actuator must be configured for spring direction at time of order.
For higher torque requirements the PB~PD series provide up to 2300 in lbs of torque.
The actuator comes standard with:
Two auxiliary switches (Form C)
Internal low power heater
NEMA 4X environmental rating
120/230 VAC or 24 VAC/DC supply voltages.
The PD Series mechanical connections utilize an ISO5211 mounting system, size F07 with an 8 point 17 mm female drive.