High Torque Electric Actuators by ProMation
Featured Product from ProMation Engineering, Inc.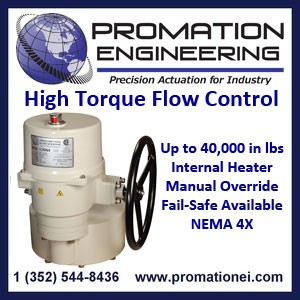 ProMation Engineering P9-13 Series Quarter-Turn Electric, Non-Spring Return Actuators are designed for use with dampers or ball and butterfly valves requiring higher torque outputs from 17,500 in lbs to 40,000 in lbs. No plastic parts!
These rugged, industrial grade actuators feature:

Self-locking hardened steel drivetrain for smooth operation
Mechanical end-of-travel stops
Patented clutch-free manual override
ISO mounting pattern
Integrated, raised position indicator
Internal anti-condensation heater
Two auxiliary switches
Many power (including 3 phase) and accessory options available
The actuators are available for 120VAC or 230VAC single phase and complete 3 Phase offerings. On/Off/Jog (2 Position) actuators are simple to install and operate. Proportional control units are easily installed, calibrated, and adjusted in the field and accept a wide range of control signals while generating multiple feedback signals.
All units are are ISO 5211 compliant, conform to AWWA C540 standards, certified to CSA 22.2 standards including ANSI/UL50 and ANSI/UL 429, and are ARRA compliant.
Options available for most actuators include:
A wide array of feedback control interfaces
Local control units
Fail safe solutions
Torque switches
Motor control centers
Phase monitors
Cold weather kits (for operation to -40 degrees F/C)
Timers, speed controls, and single wire control interfaces
All options are factory installed, calibrated, and tested.
Compare the many units in our product line or vist us at www.promationei.com. Contact us today at (352) 544 8436 for a quote!