Mechanical Failsafe Actuators for Dampers & Valves
Featured Product from ProMation Engineering, Inc.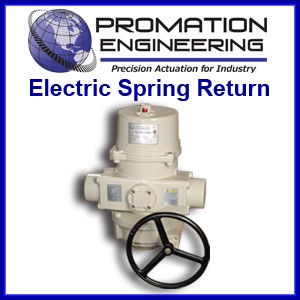 Not just fail-safe. These spring-return actuators are safe for the user and for the valve system!
Patented internal electronics protect against damage from intermittent power surges. ProMation Engineering Actuators are engineered for industrial applications to increase performance and reliability.
Electric Spring Return Actuators from ProMation Engineering
Available With or Without Manual Override
PA~PD Series offers 445"lbs-2,300"lbs Spring Return actuators.
D Series offers Reversible Spring Return actuators from 45"lbs-445"lbs.
On/Off or Modulating, CW or CCW available
ProMation Engineering's PA~PD and PAO~PDO series of spring-return electric actuators are designed for fail-safe applications with load requirements from 445"lbs to 2,300"lbs. All models are equipped with electrical and mechanical safety interlocks to protect both the operator and equipment.
The actuators come standard with two auxiliary switches (Form C), an internal low power heater, a NEMA 4X environmental rating, and are available for 120/230VAC or 24VAC/DC supply voltages.
The PA~PD Series offer several control modes for flexibility, including:
On/Off (2 position control), Jog, and Proportional (modulating control)
Models available for CW (clockwise spring return) or CCW (counter-clockwise spring return) applications
Proprietary electronic controls are integrated to protect damage from intermittent power surge situations
Available with or without Manual Override.
For more information visit www.promationei.com or call 352.244.8436 for a quote.