Pre-Wired Electric Actuators and Accessories
Featured Product from ProMation Engineering, Inc.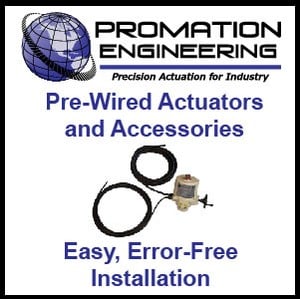 ProMation Engineering now offers Pre-Wiring for its entire Actuator line and some accessories*, making installations quick and simple and worry-free.
IP68 rated glands for distal and actuator electrical entrances
10 conductor 16 AWG cable for power and auxiliary switch monitoring for on off & modulating control
4 conductor 18 AWG shielded cable for incoming and return control signals for modulating control
Compatible with all ProMation actuators, local control stations and power backup units
Simple installation, there is no need to open actuator after calibration
Length is specified at time of order, 12' minimum
*ProMation Pre-Wiring is also compatible with ProMation Local Control Stations (LCS's) and Power Backup Units (PBU's)
Cable Glands
Four IP-68 rated submersible cable glands are included with the Pre- Wire option. The actuators are rated to IP67 with an option for IP68. Two cable glands are mounted on the actuator and two additional glands are included for the actuator local connections.
Multi Conductor Cables
Cables are rated to 600 Volts with flexible stranding. The jacket is black with operatonal temperature from -40°C to 90°C. The cable is UL Listed and CSA Certified 10 conductor cables - 16 AWG color coded for power and auxilliary switch feedback. Used in on/off and modulating actuators 4 conductor schielded cables - 18 AWG color coded for control signal to and from actuator. Schielded to prevent electric feild induced noise.
CABLE SPECIFICATIONS
• UL 62
• CSA Standard 22.2 No. 49
• MSHA Approved
• FT2 Flame Test
• Federal Specification JC580B
• Color Code - ICEA Method 1
• NEC Article 400
• OSHA acceptable
Mencom options also available, contact factory for details.