Spring Return Failsafe Electric Actuators
Featured Product from ProMation Engineering, Inc.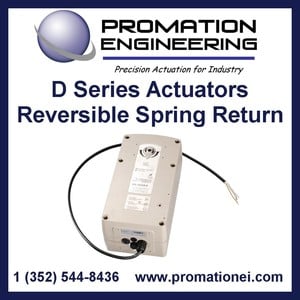 A REVERSIBLE SPRING RETURN electric actuator designed for load requirements up to 445"lbs. These are industrial electric actuators designed to IP66 standards (conforming to NEMA 4, with NEMA 7 and ATEX models now available). They are available in two configurations including models designed for On/Off/Jog applications, and models that are designed for On/Off/Jog Proportional control applications.
Class/Div CSA and ATEX models available
The D Series Actuators include:
FIELD adjustable speeds ranging from 3 seconds to 120 seconds under power, and a FIELD selectable spring return rate of 3 or 10 seconds
Auto-switching power supplies that are ready to connect to power sources from 24VAC/DC to 230VAC
Standard internal low-power heater
Hex key manual override capability standard
Auxiliary switches and handwheel for override options available
ProMation Engineering manufactures Electric Actuators designed for the harshness of an industrial environment. Our actuators provide on/off, jog, or proportional control of Ball Valves, Butterfly Valves, Gate Valves, Globe Valves, Dampers and other products. Our Non-Spring Return P Series actuators offer a range of 135"lbs to 40,500"lbs torque. Product design is based on a self-locking worm gear drive principle which provides for a smooth running, dependable, robust drive system. Our Spring Return PA-PD and D Series actuators are offered in 6 models ranging from 135"lbs to 2300"lbs. and utilize a built-in Manual Override uniquely allows positioning of valves and dampers during extended power outages. Our PL Series Electric Linear Actuators are available in 14 sizes, propotional control always included, and offer stroke ranges from 20mm to 100mm with up to 4400# of thrust and include a manual override for positioning. All models offer a visual position indicator along with a wide array of standard features (many optional accessories are also available), are ISO5211 compliant, and designed to provide a maximum efficiency and durability.