Cyclone Dust Collector - TORNADO™
Product Announcement from ProVent LLC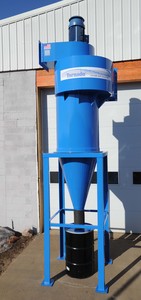 ProVent's TORNADO™ TXE Series Cyclone operating principle is a simple and effective method for removing process dust from an air stream. Dust laden air enters the conical body of the cyclone tangentially at the top and creates a vortex pattern flowing helical pattern downward into the machine and then produces an inner vortex that exits the machine having removed the particulate from the process stream. Centrifugal force causes heavier dust particles to move outward toward the cyclone wall. Friction and gravity then force the dust to fall into a receiver. Cleaned air spirals up the center of the cyclone and exits at the top of the unit.
Key Features
TORNADO™ Cyclones are unique because they incorporate additional, key design features into the standard cyclone operating method for higher efficiency.
High efficiency length-to-diameter ratio (Notice the Tornado's, tall, elongated shape)
Rectangular inlet
Involute Inlet Configuration
Air-tight dust receiver
Benefit
Efficiencies up to 90% (efficiency varies with dust type particle mass, shape and average size)
No moving parts aside from fan
No internal filter media to maintain or replace
No internal filter media to burn or fuel an explosion
Consistent airflow & performance efficiency - not restricted by filter plugging
No sludge, water clean-up or disposal as with wet type dust collectors
No internal surfaces in low-flow or static air flow condition which can accumulate hazardous dust
60%-80% cost savings when compared to media and wet type dust collectors
To view our brochure, please click here.
---