Portable Cartridge Dust Collector - SIDEKICK
Product Announcement from ProVent LLC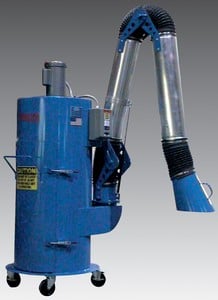 The SIDEKICK™ Portable Cartridge Dust Collector is designed for filtration of shop air contaminated by various dusts and fumes from welding, cutting, grinding, and many other processes. Used in conjunction with the SIDEARM™ Flexible Exhaust Arm, it can easily be rolled around the shop into various locations for excellent source capture, then rolled back into a storage area out of the way. The SIDEKICK™ is a heavy gauge, industrial quality dust collector with heavy-duty operational capabilities to assure exceptional suction power and excellent particle removal. Air cleaning efficiency is 99.8% down to 1/2 micron size particles.
Models:
500 CFM model PSK-50
750 CFM model PSK-75
1,000 CFM model PSK-100
1500 CFM model PSK-1500
2000 CFM model PSK-2000
To view our brochure, click here.
---